I haven't shared a lazy unit study in a while, but today I have a super-simple world monuments study to share!
Often, the best ideas are the simplest ones. Following a child's lead is a wonderful way to make homeschooling easier and also to embrace current passions. Children learn so much when they are interested in a certain subject.
Take, for example, world monuments.
It started with an Extreme Dot-to-Dot book and a question from my youngest.
Mum, what is a monument, anyway?
Oh, those question, you guys! They can feel like a slap in the face. (How did I miss teaching him about x, y, or z?!)
Or, in this case, world monuments.
A Simple World Monuments Study with Books, Games, and Spielgaben!
*Disclosure: I received a Spielgaben set to review. As always, all thoughts and opinions are my own. I only choose to share resources that I would use with my own family and those that I believe other families will enjoy. We absolutely adore this set and will be using it for our homeschool this year. Stay tuned!
Whenever one of my kiddos is interested in a particular subject, I head to the library. That's always Step One. In this instance, my son wasn't necessarily interested in monuments in the traditional sense, but he was enthralled with the Extreme Dot-to-Dot book featuring monuments and so I decided to carpe diem and hit the bookshelves.
Check out these fantastic books about world monuments for use in your homeschool
Here are some fun books, games, coloring books, and – of course- extreme dot-to-dots for your world monument study: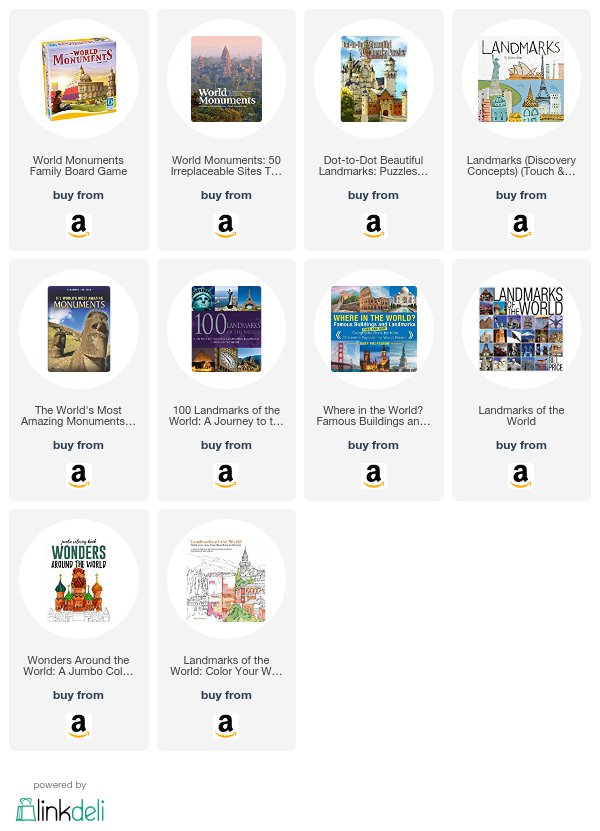 Pairing books, games, and play to create amazing learning opportunities
Our homeschool routine is based on carefully-selected, engaging read-alouds and high-quality educational games and activities.
One of my absolute favorite things to do is to take a child's current interest, add a fantastic book, and finish it off with an educational game or activity. So much learning happens in this way… and the kids have a blast in the process!
You can read more about what this looks like in our homeschool here:
Take your read aloud to the next level using play using games and Spielgaben!
When it comes to monuments and landmarks, I happen to have the perfect game!
It's called World Monuments and it is gorgeous.
And not only is it gorgeous, it is fun to play. Little builders adore this one!
The funny thing is, my little guy has played this game a gazillion times and yet did not realize that the world monuments he was creating were actual structures on our planet!
(Can you say homeschool mom fail?! Ha!)
Next up: Spielgaben
One of the many things I adore about Spielgaben is the wonderful learning materials that accompany the set. I remembered reading about several world monument activities using Spielgaben and I knew my kiddos would be excited to try them…
… and I was correct!
The truth is, my kids love anything involving Spielgaben.
It's hard to keep your hands off the set- it is just so inviting and maybe a little addictive. Ask me how I know! I always end up playing with Spielgaben right alongside my trio.
Just think of all the learning that happened with this activity: history, geography, STEM, fine motor, art, and fun!
Do you want to add Spielgaben to your homeschool? Keep reading because Spielgaben has a special offer for My Little Poppies readers!
Play is learning with Spielgaben
There are countless benefits to using Spielgaben. You can read my full review here for more information.
For the uninitiated, Spielgaben offers a sophisticated approach to child development for children ages 3-12 years. Housed in wooden drawers, all 14 Spielgaben playsets are made from non-toxic and sustainable materials. The play sets are absolutely stunning and come with oodles of lesson plans and play invitations.
Add more joy to your homeschool days…
Learn more about Spielgaben
Please read my review of Spielgaben here:
You can follow Spielgaben on Facebook, Instagram, Pinterest, and Twitter.
HERE'S A SPECIAL OFFER FOR MY LITTLE POPPIES READERS…
For a limited time, Spielgaben is offering a special deal PLUS LayAway payment program for My Little Poppies readers.
To receive the discount, simply send an email to info@spielgaben.com and mention My Little Poppies.
Now, it's your turn. Tell me: Do you love lazy unit studies, too? Share here!