Oh my word, you guys. We have had the longest stretch of cold, gray, rainy days.
At first, my kids delighted in the rain. They donned rain boots and puddle hopped, searched for worms, and played with mud.
But, after a while, the rain got old. 
They still went outside, but they didn't stay out for long. They would return to the kitchen, soggy and crabby, and announce:
What can I do? I'm BORED.
Truth be told, I think boredom is good for kids. My children are their most creative moments after whining about boredom.
But the thing is, I have less tolerance for whining about boredom when we have had a stretch of 9,452 rainy days. (Okay, it hasn't been that long, but it sure feels like it!)
On these days, I like to have an emergency plan. And, in our world, that plan often involves art.
Why?
Because art calms my kids down. It calms me down, too.
Today, I'm sharing an art course that we recently enjoyed. Just in case you need an emergency plan too!
Get Ready for Summer with this Seashore Chalk Pastel Video Art Course
*Disclosure: I received access to this course at no cost. I was not required to write a review, but I love to share fun resources. As always, all thoughts and opinions are my own.
First, before we get started, I wanted to let you know about the You Are An Artist Clubhouse!
We are in love with this membership site!
The You Are An Artist Clubhouse Annual Membership
We *love* Nana and her Chalk Pastel tutorials. Now, Nana has created an entire clubhouse for artists!
The Clubhouse annual membership includes:
Instant access to oodles of video art tutorials 
A new art course added monthly
A new art lesson each week
… and Chalk Pastels at the Movies
You can read more or sign-up here.
And now back to the Seashore Chalk Pastel course…
Seashore Chalk Pastel Video Art Course
When I heard that ChalkPastel.com was adding video courses, I had to check them out. 
In the past, we have enjoyed the Chalk Pastel ebooks. They have created chalk pastel sharks, space art, and even Olympics-themed chalk pastel art!
The fun thing about chalk pastels is that you do not need any artistic ability. They are easy to use and non-intimidating. 
My children loved the new Seashore Chalk Pastel Video Art Course from ChalkPastel.com!
What is included in the Seashore Chalk Pastel Video Art Course?
All video art courses from ChalkPastel.com include the following:
In each lesson, Nana leads through the process, step-by-step. 
Techniques encourage both new artists and challenge more advanced ones
Independent learning for older students
FAQs
Glossary of art techniques
Option to join You ARE an Artist Facebook group for sharing artwork and asking questions.
The videos can be viewed on any device and you receive lifetime access to the course. 
Seashore Chalk Pastel Video Art Course includes the following nine video art course tutorials:
Starfish
Sand Castle
Sea Turtle
Crab
Clown Fish
Sand Bucket
Jellyfish
Night Shark
Undersea World
The Seashore Chalk Pastel Video Art Course is not the only video course offered by ChalkPastel.com
Other offerings include:
Spring Video Art Course with 9 spring art tutorials
Easter Video Art Course with 9 tutorials to celebrate the season
Art in Space Video Art Course Bundle

Solar System Video Art Course

Space Exploration Video Art Course

Birds Video Art Course 
Preschool Basics Art Lessons Course
In addition, you can sign up for a year-long or semester-long course in A Simple Start in Chalk Pastels. The full course includes 45 video art tutorials and the semester courses include 20 courses each.
You can learn more by visiting ChalkPastels.com.
Do you love art?
Love Chalk Pastels?
This is not our first venture into the world of chalk pastels. We also love these courses: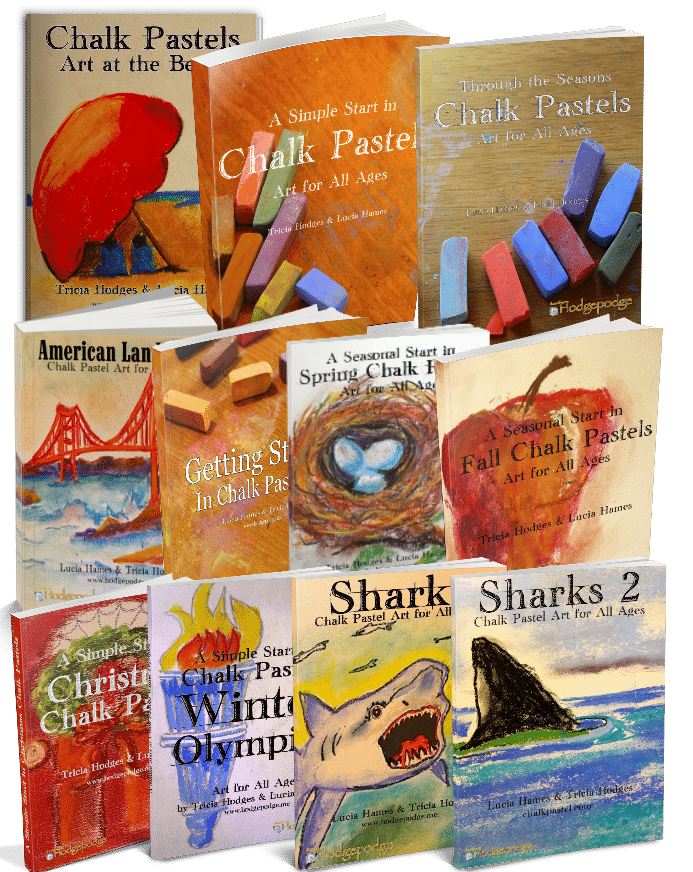 Looking for another summer-themed art course?
My children also enjoyed this Celebrate Summer Mixed Media Workshop:
Love art?
Be sure to check out these related posts:
Now, it's your turn. Tell me: What does art look like in your homeschool? Share here.