Do you have a little kid with big worries? As a school psychologist turned [unexpected] homeschool mom, I want you to know that you are not alone. Many children struggle with worry. Today, I am sharing how to make your own worry basket.
A word on navigating anxiety and worry amid COVID-19 concerns:
We are living through history right now. Everyone is feeling at least a little on edge, as we are navigating uncertain waters. Children are little sponges and they will pick up on your anxiety. If you are feeling a bit lost right now, here are some resources to help:
More ideas for navigating the current COVID-19 situation…
The book in the photo below is fantastic. I love Dawn Huebner's books and this one is no exception. It's filled with helpful resources and will serve as a springboard for important conversations. (I've linked more of my favorites at the end of this post, so keep reading!)
This week, we listened to this episode of the Brains On! podcast. It helped my children to understand COVID-19 and the steps they can take to protect themselves and others in our community. (You know your kids best so pre-listen to see if it will work for you. Just sharing because it helped us.)
We also had a handwashing 101 exercise. It's something I remember from when I worked at a daycare. I put some lotion on each kiddo's hands, had them rub it in, and then I sprinkled glitter all over the front and back of their hands and had them rub that in. Then, they tried to wash it off. It was the best handwashing we've had in years, you guys!
Often the worst part of anxiety is feeling as if you lack control. It can help immensely to take action in your small patch of the globe. This week, we are making a meal for a local shelter, donating to the food pantry, and buying a gift card for our favorite restaurant (we won't be eating there this week amid concerns, but we know small businesses are going to be hurting). If you have other ideas, please share them in the comments. We need to be the helpers in times like this! (Looking for ideas? I've linked helpful articles at the end of this post!)
Before I talk about how to make your own worry basket, I want to share some tips and tricks for navigating worry at home…
10 Things Your Little Worrier Needs to Know
One of my kiddos is a world-class worrier. The worries housed in his brain have always been far too big for his sweet little body. I wish I could whisk them away and erase them from his mind forevermore. He has conquered many fears over the years and, thankfully, we've learned that the worries always pass with a little TLC, creativity, and heaps of patience.
Do you have a little kid with big worries? You are not alone!
Mothering a worrier can be exhausting. Believe me, I understand. When you are in the midst of a worry surge, it feels like all of your energy is spent fighting the battle. And then, suddenly, the fog clears… until the next time.
I have learned to think of these worry swells as teachable moments. After all, we all experience worry from time to time. Sure, some of us experience it more severely, and more frequently, but no one is immune to worry. It is a part of life.
Learning to manage difficult emotions is an important life skill. The sooner your child learns effective coping and calming strategies, the better. These coping skills will serve your child well in life.
While I certainly don't claim to have all the answers, I am happy to share strategies that have worked for this school-psychologist-and-world-class-worrier-mom.
1. Worry is normal.
Worry serves an important purpose: protection. It plays a key role in the fight-or-flight response and keeps us safe. Every single person on this planet has worries. Every. Single. Person. Worry is a normal part of the human experience.
2. Worry is temporary.
It certainly doesn't feel temporary when you are in the thick of it, but worry is normal. When it spikes, it is important to remember that worry ebbs and flows. This brings me to…
3. Worry can be managed, but it takes practice and patience.
There are steps you can take to manage anxiety more effectively. You need to determine the coping and calming strategies that work best for you.
In our home, we call this our Worry Toolbox. I feel better if I do yoga, go for a run, listen to music, or have some time alone with a delicious book. You might feel better when you go out with friends, go for a swim, or meditate. Each person has a unique Worry Toolbox! Helping your child build his Worry Toolbox will not only help this time, but also the next time that worry monster rears its ugly head!
Great strategies include:
guided relaxation and imagery
meditation
yoga
deep breathing
progressive muscle relaxation
distraction
humor
writing
and drawing
Keep a notepad beside your child's bed so that he or she can do what I call a "brain dump" and either write about or draw the worries. This can clear the mind and allow for sleep.
Stress is a part of life so it's best to learn to manage it early. Coping skills are among the most important of life skills!
4. Talking about worry is super-duper important.
When you don't talk about your worry, when you avoid it, you give the worry more power. It is important for your child to face the worries and work to overcome them, with support from you. Conquering worries can build a feeling of success and fosters resiliency. Talking about your worry is an important step toward winning the battle. Sometimes, worry can be difficult to talk about. In these cases, set up a date later to chat. Sometimes it can be easier to talk when you are moving, playing a game, or riding in the car. It doesn't matter where you talk about it, just make sure you do it!
5. Your worry does not define you.
Everyone has strengths and weaknesses. You have oodles of strengths! When the worry feels like it is overshadowing you, remember all of your gifts.
6. Being sensitive is a superpower.
Sensitivity is a superpower. You care deeply for others and the world around you in a way that others do not. Your sensitivity allows you to be in-tune with the feelings of those around you and to treat others carefully. Sensitive souls make great friends and kindness attract kindness.
7. You have an amazing brain!
In our family, we have had great success through learning a little neuroscience. Did you know that if your amygdala is too sensitive, you can actually work to change it? You can exercise your brain just as you exercise your body!
8. Asking for help is incredibly brave.
Sometimes, the worry is just too much. In these cases, it is brave to ask for help. If your child's worry is significantly impairing his or her daily functioning, or if there is a history of anxiety disorders in your family, it's important to seek help. The sooner, the better. Believe me, your child will be so relieved to have another supportive adult in his or her corner, cheering for those Worry Wins. Many practitioners are conducting virtual therapy right now so don't be afraid to reach out and call a therapist for help!
9. You have conquered worry before and you can do it again.
Whenever my son is struggling with a swell of worry, I remind him of all the worries he's conquered in his eight years on this planet. The list is a long one. Reminding him of these successes helps him to remember that he's done this before. And not only has he done it before, he's done it a gazillion times! Listing all his past Worry Wins never fails to elicit a smile, even if he's deep in the throes.
I'll often make a Worry Wins list to hang in his bedroom, or on the bathroom mirror, to remind him daily that he's an expert at battling worries. This is one of our family's favorite strategies.
10. A worry basket can help you manage those worries.
And I saved the best for last. When my son was younger, our Worry Basket was GOLD. It was such an important resource in our home. The Worry Basket helped us learn which strategies worked best for our son. In addition, keeping the Worry Basket in his bedroom provided a safe space for him when worries swelled. Moreover, it taught him how to recognize, manage, and alleviate swells of anxiety.
I wish I had a better photo of our Worry Basket back then, but this cruddy one will have to do:
How to Make a Worry Basket
I have linked all of the following resources in my Amazon Storefront. You can visit it here.
What to include in your Worry Basket
Here are some ideas for items to put in your child's Worry Basket: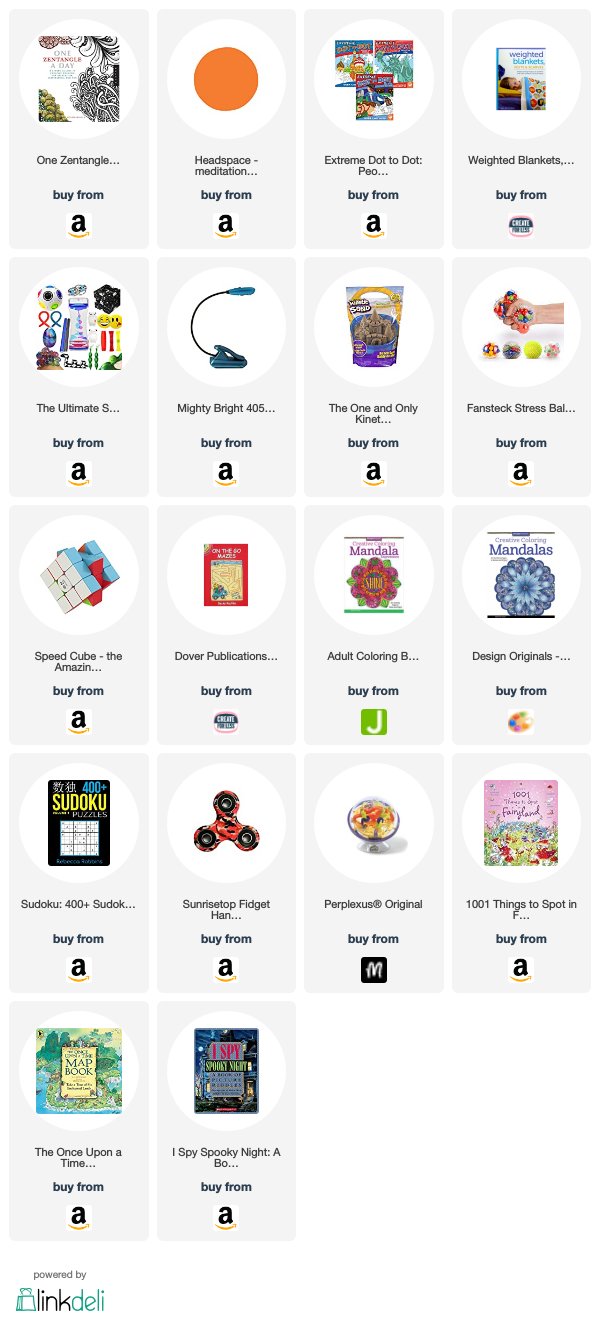 I have linked the above resources in my Amazon Storefront. You can visit it here.
Add mindfulness to your Worry Basket
Incorporating mindfulness techniques into our homeschool routine has been extremely beneficial, not just for my little worrier, but for all of us. Here are two of my favorites:
Books to add to your Worry Basket
As a school psychologist, I am a huge fan of bibliotherapy. As such, I have oodles of books on worry and mindfulness. Tuck a couple into your Worry Basket. Children gain so much through reading about pertinent topics.
Here are some worry-related books that we have in our library:
I have linked all of the above resources in my Amazon Storefront. You can visit it here.
Single-player games can be a great addition to your Worry Basket

More ideas for your Worry Basket
Gratitude can help, too!
Helping others can help little worriers feel empowered
Additional resources for managing worry at home
Now it's your turn. Tell me- What's in your Worry Basket? Share here!