Today, I am sharing a super-simple idea that is sure to inspire both play and learning: homemade games!
As a gameschooling family, we love to incorporate board games and play into our daily routine. One of my children's favorite activities is to create homemade games. Some of these games are familiar classics, while others are games of their own invention. Sometimes, they even add to existing games by creating expansion packs.
So much learning happens when children play this way! They must cooperate. They must collaborate. Together, they create. And then, they play! Often, there is writing, reading, math, and art involved.
I hope that these homemade games will fuel creativity, play, and fun in your home!
Challenge Kids to Get Creative with Awesome Homemade Games Using Art Supplies and Spielgaben
*Disclosure: I received a Spielgaben set to review. As always, all thoughts and opinions are my own. I only choose to share resources that I would use with my own family and those that I believe other families will enjoy. We absolutely adore this set and love using it for our homeschool!
Do you want to make your own games?
My children love to create their own games.
Sometimes, they are inspired by a current game obsession. For example, they recently acquired old Monopoly pieces and have big plans to create a family-themed Monopoly.
Other times, they are inspired by a favorite book or film. Once, we create a handful of games based on the movie Inside Out. You can read more about that here:
One year, we even made a Trivial Pursuit based on our homeschool! You can read that post here:
If the thought of creating an entire game is overwhelming right now…
Why not create an expansion pack for a favorite game? This is often less overwhelming and I promise it is just as much fun!
Recently, my kiddos created an expansion pack for Hedbanz:
Of course, they included some potty humor:
And my oldest is currently working on a wizard-themed expansion for Dixit:
I truly believe you can make your own games using the art materials you already have on-hand at home, but if you are looking to up your "game" (see what I did there?), here are some ideas: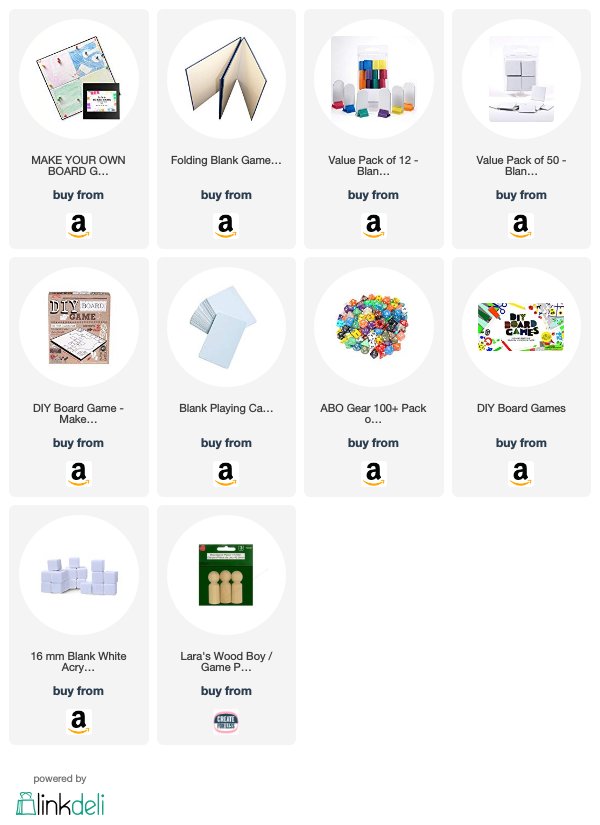 Here's another great idea: Use Spielgaben to create homemade games!
One of the many reasons that I have fallen head-over-heels for Spielgaben is the fact that it is such a high-quality, play-based resource. (If you have been drooling over Spielgaben for years, like me, be sure to keep reading because I have a special offer for My Little Poppies readers!)
I love to create learning activities using our Spielgaben set. Often, I create extension activities based on books we are reading. (You can read more about what that looks like here.)
And while the kids always enjoy the activities I create, I love when they play with Spielgaben on their own with no structure at all.
Kids are so creative!
Just this week, my trio created an entire magic show. The show required oodles of planning and patience. I won't lie- there tears and squabbles leading up to the big show, but it was worth it in the end.
They announced the show using our Spielgaben set:
And I had to pay for my ticket with "Spiel Cash" as you can see here:
One day, they even made a maze for a spider!
And, as a gameschooler, I absolutely adore when my children create games using Spielgaben!
Create your own games using Spielgaben
Today, I thought it would be fun to share just a few of the many games my kiddos have created over the past year with our Spielgaben set. Some of these games will be familiar to you, while others are completely new!
"Ring Toss" with Spielgaben:
"Zap!" with Spielgaben
"Flat World to the Secret Kingdom" with Spielgaben
"Giant Tic-Tac-Toe" with Spielgaben
Play is learning with Spielgaben
There are countless benefits to using Spielgaben. You can read my full review here for more information.
For the uninitiated, Spielgaben offers a sophisticated approach to child development for children ages 3-12 years. Housed in wooden drawers, all 14 Spielgaben play sets are made from non-toxic and sustainable materials. The play sets are absolutely stunning and come with oodles of lesson plans and play invitations. The play sets are designed to be used in sequence in a developmentally appropriate manner.
Add more joy to your homeschool day…
Learn more about Spielgaben
Please read my review of Spielgaben here:
You can follow Spielgaben on Facebook, Instagram, Pinterest, and Twitter.
Here's a special offer for My Little Poppies readers…
For a limited time, Spielgaben is offering a special deal PLUS LayAway payment program for My Little Poppies readers.
In order to receive the discount, simply send an email to info@spielgaben.com and mention My Little Poppies.
Now, it's your turn. Tell me: Do you love to create homemade games? Share here!