Today, I'm sharing some of our family's favorite games to get kids moving.
These games are perfect for a rainy day. They are also perfect for a cold February day when you feel cooped up but it is too cold to stay outside for very long.
Psst! This post has been updated and expanded. You can check it out here:
10+ Games to Get Kids Moving
Download our free Fitness & Movement Gameschool Resource List here:
10+ Games to Get Kids Moving:
I used to play this game years ago when I nannied. It's a fun, quirky, follow-the-leader type of game. Kids can play it alone or as a group. The game is simple to play: turn on the speaker and go! Listen carefully and follow the directions, hopping from pad to pad. It's like musical-chairs-meets-Simon-Says-meets-dancing. My favorite part? "Winner: Do a funky dance!!"
Years ago, I wrote a post about how to make your own hopscotch mat. Would you believe that thing is still alive and kicking?? We use it all the time over here! But, if you don't feel like cutting felt and using a hot glue gun, you can make your own mat out of tape on the floor, sidewalk chalk on a driveway, or… get one online and keep it in your child's room to encourage movement!
What happens when your traditional memory game meets yoga poses? Memory Yoga from ThinkFun! Work on balance, coordination, mindfulness, and memory in this fun twist on an old classic!
Obstacles is a fantastic, cooperative problem-solving game that encourages imagination, creative thinking, and teamwork. It requires that children think outside of the box together. To play the game, obstacle cards are placed randomly in a path on the floor. Some examples of obstacles are thunderstorms, poison ivy, monsters, mazes, etc. Then, players are dealt a number of tool cards. I love that the tools involve creative thinking. Examples of tool cards include: kite, saw, drum, ice, monkey, etc. Players take turns sharing how they would use a tool in their hand to overcome the first obstacle. After everyone has offered a solution, the players talk together about the solutions and vote for the best option.
It's a perfect cooperative game for non-competitive kids!
I have loved scavenger hunts ever since I was a little girl, so I was thrilled to find this game! We gave it to the kids for Christmas last year. This is board game that incorporates a scavenger hunt. Players are required to find certain objects around the house in order to advance on the board. This makes for a laugh-out-loud game of movement and fun. Best part? The game includes clean-up time periodically so you are not left with a gigantic mess!
Twister is a classic game that gets kids moving and results in tons of laughter! I can remember playing this at countless birthday parties over the years. My college roommates and I had a game and I have so many hysterical memories. It is fun to play, even funnier to watch, and it helps to teach children the difference between left and right!
I am going to write an entire post about the book Unbored Games, which we adore. We have recently discovered that Unbored Games now has a couple of related board games. In Unbored Disguises, children learn to go undercover. They create their own disguises, accents, and personalities. They can spy on others, go on wild adventures, and put on fun plays. My children have had a blast with this "bored game" and it has inspired creativity and imagination.
Unbored Treasure Hunt has everything your children need to create their very own treasure hunt. First, decorate the treasure chest. Next, fill it with jewels. Then, create a map and clues. Then, it's time for the hunt. I cannot tell you how many times this little treasure chest has been hidden in my house or backyard! It has been such a fun activity for my three kiddos!
Are you looking for an activity to calm those kids down? I love that my children are learning yoga poses and mindfulness as they work together to plant a garden before the sun sets. This game also requires your kids to think outside of the box and create and name their very own yoga pose. This part is entertaining for all! This game is a wonderful way to introduce children to yoga and mindfulness.
We are huge ThinkFun fans over here and Yoga Spinner Game does not disappoint. This would be the perfect introduction to yoga and would also be great before bed or in the classroom as a way to instill mindfulness and calm.
I love that this game also works on coordination and following directions- two skills that are important for my son who struggles with SPD and crossing the midline.
Yoga Pretzels is a beautifully illustrated deck of cards with each card depicting a yoga pose. Children will find these poses easy to follow and fun, and you'll be surprised at the games that your children create using these cards. They won't even know that they are learning mindfulness!
More movement games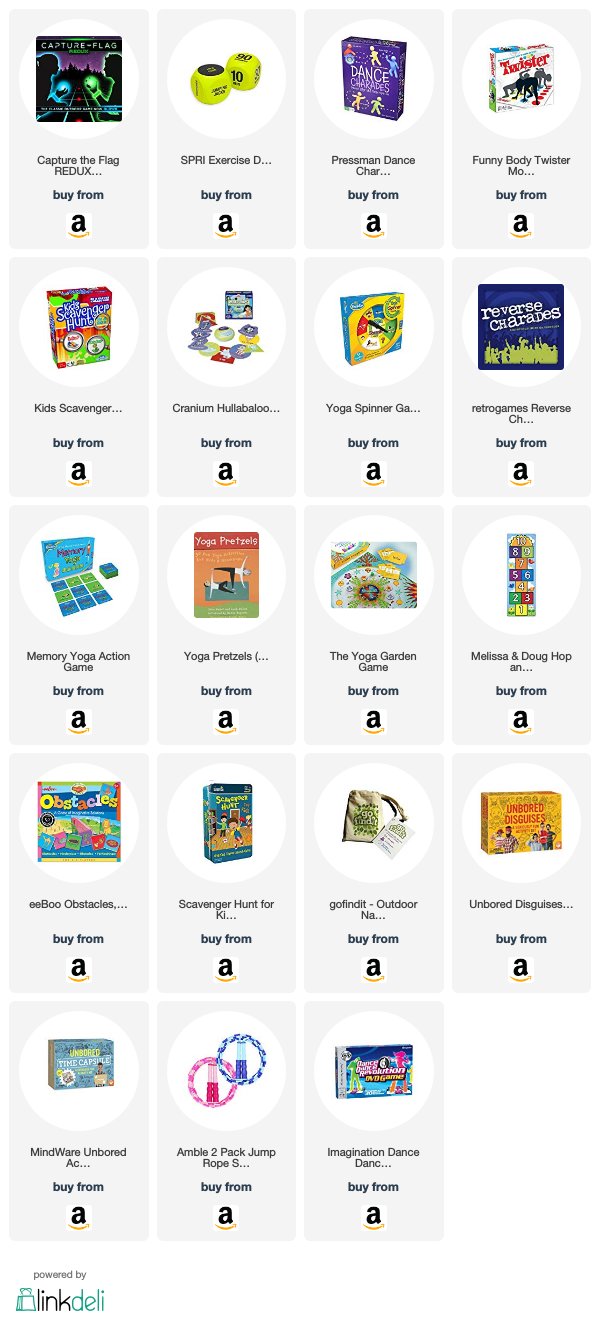 Looking for other ways to wear those kiddos out?
If you are looking for other activities and games to get kids moving, be sure to check out these related posts:
This post has been part of a 5-day iHomeschool Network hopscotch. Please click the image below to see the other posts in this series:
Do you love Gameschooling?
I rely heavily on educational games in our homeschool. Read more here:
Now, it's your turn. Tell me: What are your family's favorite games to get kids moving? Share here!