With the 4th of July on the near horizon, I'd like to share a super-simple fireworks study with you! But, first, the backstory…
For years, my oldest son struggled with sensory processing disorder. He was a classic sensory seeker but was also super duper sensitive to sounds.
This made the 4th of July incredibly tricky for our family. We live in New Hampshire and fireworks are legal here. Beginning at the end of June, it sounds like fireworks are launching in our backyard. For years, June and July were stressful months for my poor little guy.
(Sidenote: If July 4th is tricky for your family, you're going to want to check out this episode of The Homeschool Sisters Podcast which has oodles of summer survival strategies!)
Thankfully, he has outgrown his sensory struggles. Last year, he asked to go to a fireworks display. Unfortunately, he ended up not feeling well on the 4th so we never made it.
But this year, my kids are over-the-moon excited to watch fireworks from the beach!
In anticipation of our first family fireworks experience, I thought it would be fun to create a lazy unit study around the topic!
How to Celebrate July 4th with a Super-Simple Fireworks Study
*Disclosure: We received a Spielgaben set at no cost in exchange for a review. We are honored to work with Spielgaben. This post is part of a monthly series featuring how we use Spielgaben in our homeschool. All thoughts and opinions are my own. You can read my review of Spielgaben here.
How to get children excited about fireworks using fantastic manipulatives and play
If you've been following our site for any length of time, you already know that Spielgaben is one of my top go-to resources for hands-on learning, play, and creativity.
(Psst! Spielgaben has a special offer for My Little Poppies readers so please keep reading!)
Spielgaben was the first resource I pulled out in preparation for our super-simple fireworks study! 
When it comes to high-quality, hands-on manipulatives like Spielgaben, you almost don't need a plan. The play that children create all by themselves is incredible to watch.
That said, sometimes an invitation can help. On this particular day, we watched some fireworks videos on YouTube. Then, I grabbed a few sheets of black construction paper and asked the kids if they would like to create their very own fireworks. They were at work- errr, I mean play – in seconds!
This super simple play invitation stirred up so much imagination, creativity, and excitement about our upcoming 4th of July fireworks show!
Be sure to check out this fireworks-themed art tutorial!
One of our favorite art resources, You Are An Artist Chalk Pastels, is offering a fireworks lesson!
(You can read more here.)
Children's books, DVDs, games, and other resources for those looking to learn more about fireworks
As we prepare for July 4th, we will be reading heaps of good books. It's a family tradition to use sparklers and Pop-Its the week before the 4th, just to get everyone excited.
We are also planning to release a lantern at the beach and make a wish (we did this last year with friends and it was such a memorable moment).
Plus, we are going to watch Quarx on CurioisityStream (episode 13 is all about fireworks!).
Books about the American Revolution
This year, we joined a homeschool co-op and the focus of the co-op is American History. Because we joined mid-year, we have some catching up to do. This summer, we will be exploring American History in hopes of catching up with our friends.
Here are a few of the books that we have enjoyed, plus many others that are on our to-read list for this summer:

Additional games and resources for those studying the American Revolution
We have thoroughly enjoyed our American History studies thus far. In addition to the resources listed below, be sure to check out FieldTripZoom, as they have several recorded field trips on American History, including "The Pursuit of Liberty" by the Virginia Historical Society.
We have also enjoyed the Chiefs series on CuriosityStream and We Will Remain on PBS, as both series provide Native American History prior to the American Revolution.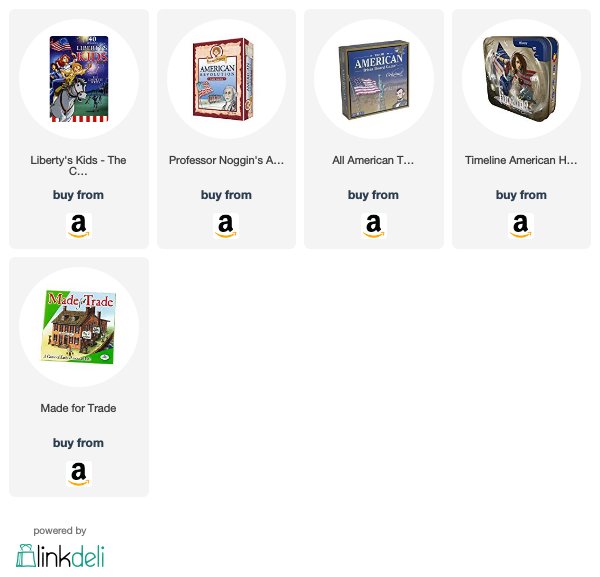 Here's a special offer for My Little Poppies readers…
For a limited time, Spielgaben is offering a special 10% discount to My Little Poppies readers. In order to receive the discount, send an email to info@spielgaben.com and mention My Little Poppies.
Spielgaben will also offer a LayBy Payment Plan if you do not need the product right away. You can pay three monthly payment installments and orders will be shipped as soon as final payment is made.
Learn more about Spielgaben
Please read my review of Spielgaben here:
You can follow Spielgaben on Facebook, Instagram, Pinterest, and Twitter.
If you love summer, be sure to check out these resources:
Love history? Check out these related posts:
Now, it's your turn. Tell me: Do you have a favorite 4th of July book to add to this fireworks study? Share here!