Today I am sharing the best educational art and music stocking stuffers for homeschool and gameschool families!
Is your favorite listed below? If not, leave a comment below!
The Best Educational Stocking Stuffers: Art and Music
I absolutely love to share our family's favorite homeschool and gameschool resources. We adore all things art-related, and so today I am excited to share these favorites with you!
This post is part of a series: 100 Educational Stocking Stuffers…
Please click the image below to read the other posts in the series:
Art and Music Educational Stocking Stuffers:
Here are some of our family's absolute go-to favorites when it comes to art and music gifts…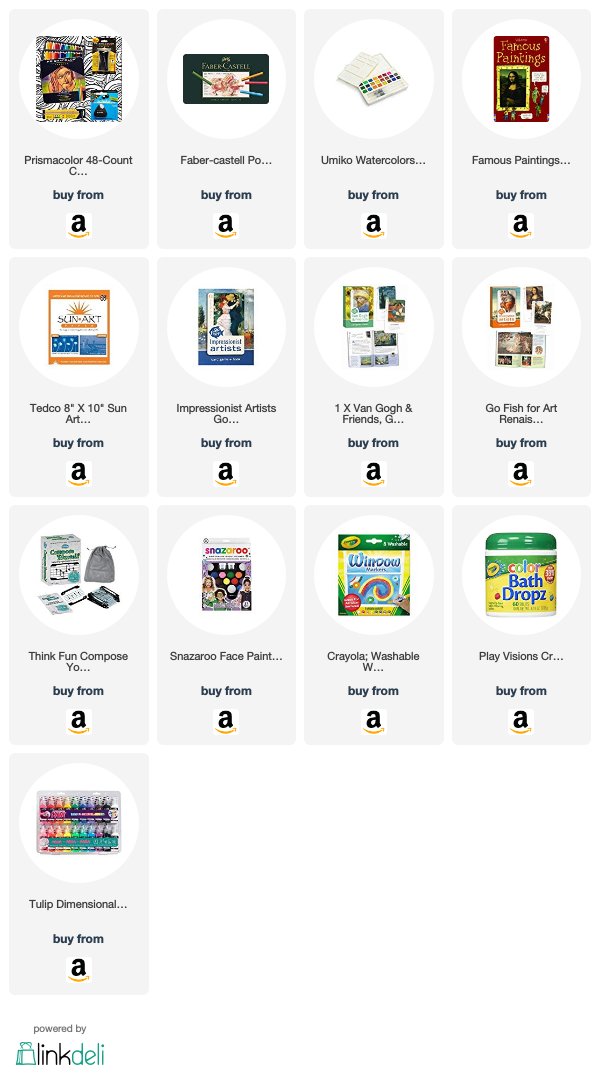 Are you looking for additional resources for homeschooling art and music?
Be sure to check out these articles:
Hope you've enjoyed our Art and Music Educational Stocking Stuffers article!
Did I miss your favorite? Leave a comment below!
Do you want to add more JOY to your homeschool routine?
Are you looking for additional gift ideas?
Check out some of our favorites here:
Want to see some of these resources in action?
Are you curious about our homeschool curriculum?
Gameschoolers use games as part of their homeschool curriculum. In fact, some gameschoolers abandon curriculum entirely!
You can read all about how this gameschool family uses games and homeschool curriculum here:
Do you want to see our homeschool in action?
Be sure to follow My Little Poppies because we share snapshots of gameschooling moments… and heaps of incredible books!
You are also invited to join the My Little Poppies Gameschool Community, a private Facebook Group for parents who wish to add more play to their family and/or homeschool routine.
Now, it's your turn. Tell me: Do you have favorite educational stocking stuffers? What is your favorite art and music gift to give? Share here!
Latest posts by Caitlin Fitzpatrick Curley
(see all)