I have to tell you- I am loving The Homeschool Sisters Podcast's Hyggeschooling Challenge. The challenge has helped me to focus on what matters most during this brief, often chaotic, holiday season: family, togetherness, memories, and a general cozy wintry feeling. Today, I'm sharing a super-simple way to learn and maintain hygge- by pairing fantastic books and Christmas play!
(It is educational, I promise!)
Sometimes it is hard to remember that children need to move. Sure, some children need to move more than other children, but all children need movement.
Learning is much more fun when children are given space to move!
When I read aloud to my children, I do not expect them to sit still. I encourage play.
I promise you, your children can listen to stories and play. 
Today, I am going to share some ideas for keeping those little hands busy while reading aloud or listening to audiobooks.
How to Pair Amazing Christmas Play and Fantastic Books
*Disclosure: We received a Spielgaben set at no cost in exchange for a review. We are honored to work with Spielgaben. This post is part of a monthly series featuring how we use Spielgaben in our homeschool. All thoughts and opinions are my own. You can read my review of Spielgaben here.
Delight your children with fantastic Christmas books
In my experience, listening to stories while playing only enhances the play… and children's understanding of the story itself.
Here are just a few examples of play during and/or immediately following recent read-alouds and audiobooks:
It is often said that play is the language of childhood. Children will recreate the story through their play. They will act out favorite scenes, create characters, or make up alternative endings to favorite stories.
(My children are currently working on an in-home performance of A Christmas Carol. I can't wait!)
Here are some Christmas books and cozy winter read-alouds to inspire play in your home:
Christmas audiobooks to fuel Christmas play
There's nothing like brewing a pot of your family's favorite tea, sitting in front of the fire, and listening to a favorite audiobook!
Here are a few favorite Christmas audiobooks we have enjoyed this holiday season:
Keep little hands busy during your read alouds with educational Christmas play
There are countless ways to keep little hands busy while you read aloud or listen to an audiobook, and I am going to share many of our favorites with you today.
At the top of the list is Spielgaben. I've gushed about this set countless times and with good reason. It is gorgeous, well-made, and it stores easily.
Plus, children cannot keep their hands of the set.
(And, to be honest, neither can their grown-ups. I am in love with the set and I play with it often!)
In our home, Spielgaben sparks entire afternoons of play. 
I'll often grab a few Spielgaben drawers, put them in front of the fireplace as a play invitation, and pop in an audiobook. Then, I brew a cup of tea and watch what happens.
I love watching children play. It is one of my life's joys. I know I will miss these days, watching my children completely lost in play.
A recent lazy afternoon spent reading and playing with Spielgaben
This week, we listened to Letters from Father Christmas by J.R.R. Tolkien.
(Side note: How have I made it almost 40 years on this planet without reading this book?! It is fantastic!!)
Before the story started, I placed several Spielgaben drawers in front of the fireplace. I didn't say a word. I simply started the story and within minutes, the children were playing.
Here are a few of their creations, all but one inspired by the book:
Of course, you don't have to have a Spielgaben set in order to experience fantastic play during your read-aloud.
(But, if you have been thinking about adding a Spielgaben set to your homeschool, keep reading for a special offer.)
Other ideas for Christmas play
Here are a few of our other favorite read-aloud activities. These educational resources keep those little hands busy so that little ears can tune in to the story!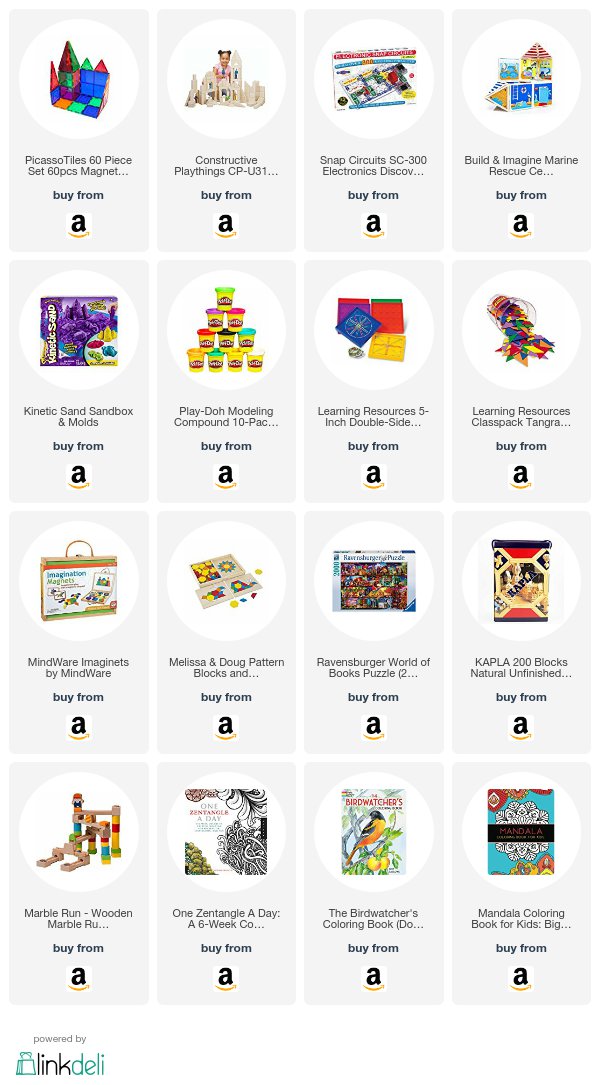 Looking for more Christmas fun?
You won't want to miss our super-simple, super-fun Grinchy Dough! Grab your recipe here:
You could also keep your kiddos busy with Christmas art, music, and mess!
Here are some ideas for you:
Play is learning with Spielgaben
There are countless benefits to using Spielgaben. You can read my full review here for more information.
For the uninitiated, Spielgaben offers a sophisticated approach to child development for children ages 3-12 years. Housed in wooden drawers, all 14 Spielgaben playsets are made from non-toxic and sustainable materials. The play sets are absolutely stunning and come with oodles of lesson plans and play invitations. The play sets are designed to be used in sequence in a developmentally appropriate manner.
Learn more about Spielgaben
Please read my review of Spielgaben here:
You can follow Spielgaben on Facebook, Instagram, Pinterest, and Twitter.
Here's a special Spielgaben offer for My Little Poppies readers…
For a limited time, Spielgaben is offering a special deal PLUS LayAway payment program for My Little Poppies readers. In order to receive the discount, simply send an email to info@spielgaben.com and mention My Little Poppies.
Check out our other Christmas posts
Are you looking for holiday gift ideas?
Look no further!
Do you love family read alouds?
Here are some related articles:
Now, it's your turn. Tell me: Do you encourage Christmas play during your family's read-aloud time? Share here!