I have two words for you today: Christmas Extravaganza.
Sounds fun right? It is! It is a Christmas art course that is super easy to follow and calming.
And we need some calm around here because oh my word homeschooling through the holidays can be tricky.
The energy is high.
The desire to do any formal homeschooling is low.
(I count myself in there, too. I'm ready to focus more on hygge and less on curriculum and planning.)
That said, I do like to maintain a rhythm. Our holiday homeschooling includes more books, games, music, and art.
And I typically save the art for late in the day. That time we mothers refer to as The Witching Hour.
Why?
Because art calms my kids down. And it calms me down, too.
Today, I'm sharing an art course that we recently enjoyed. Just in case you need a holiday homeschooling plan, too!
This Awesome Christmas Extravaganza Christmas Art Course Will Delight Little Artists
*Disclosure: I received access to this course at no cost. I was not required to write a review, but I love to share fun resources. We return to these courses time and time again. As always, all thoughts and opinions are my own.
First, before we get started, I wanted to let you know about the You Are An Artist Clubhouse!
We are in love with this membership site!
The You Are An Artist Clubhouse Annual Membership
We *love* Nana and her Chalk Pastel tutorials. Now, Nana has created an entire clubhouse for artists!
The Clubhouse annual membership includes:
Instant access to oodles of video art tutorials 
A new art course added monthly
A new art lesson each week
… and Chalk Pastels at the Movies
You can read more or sign-up here.
And now back to the Christmas Extravaganza course…
Christmas Extravaganza: A Christmas Art Course Using Chalk Pastels
When I heard that ChalkPastel.com was adding Christmas video courses, I had to check them out. 
In the past, we have enjoyed the Chalk Pastel video courses and ebooks. They have created chalk pastel sharks, space art, and even Olympics-themed chalk pastel art!
The wonderful fun thing about chalk pastels is that you do not need any artistic ability. They are easy to use and non-intimidating. 
My children loved the new Seashore Chalk Pastel Video Art Course from ChalkPastel.com, and so when I told them there was a Christmas Extravaganza course, they were over-the-moon excited!
What is included in the 'Christmas Extravaganza' Chalk Pastel Christmas Art Course?
All video art courses from ChalkPastel.com include the following:
In each lesson, Nana leads through the process, step-by-step. 
Techniques encourage both new artists and challenge more advanced ones
Independent learning for older students
FAQs
Glossary of art techniques
Option to join You ARE an Artist Facebook group for sharing artwork and asking questions.
The videos can be viewed on any device and you receive lifetime access to the course. 
Away in a Manger
Winter Fun
Gingerbread Man and Holly
Christmas Angel
What's Under Your Christmas Tree?
Christmas Ornaments
Nutcracker
Christmas Tree
Christmas Lights
Clara and the Tree
Sugar Plum Fairy
Chinese Tea Dance
Mouse King
You can learn more by visiting ChalkPastels.com.
These chalk pastel video tutorials go perfectly with SQUILT!
My Nutcracker-obsessed kiddos have been enjoying this Christmas Extravaganza course in conjunction with SQUILT's Christmas Carols unit study and The Nutcracker unit study.
Want to add more joy to your homeschool?
Love Chalk Pastels?
This is not our first venture into the world of chalk pastels. We also love these courses: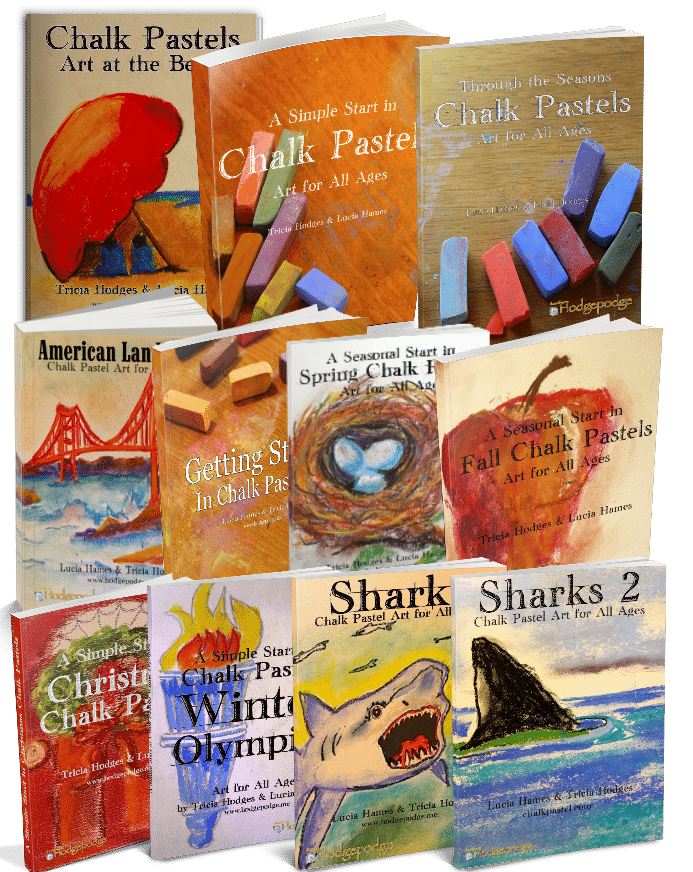 Looking for more Christmas fun?
You won't want to miss our super-simple, super-fun Grinchy Dough! Grab your recipe here:
Looking for more holiday learning ideas?
Love art?
Be sure to check out these related posts:
Now, it's your turn. Tell me: What does holiday homeschooling look like for you? Share here.