This summer, we had an absolute blast with oversized backyard classic games!
Did you guys even know this was a thing? Backyard Yahtzee, er- I mean Yardzee– and giant Jenga?
Let me tell you all about it!
These games were a huge hit at playdates, BBQs, and friends' houses. We even brought them to the pool!
How to Make Gameschooling Amazing with Backyard Classic Games!
This post is part of my Growing List of My Little Poppies Game Reviews. Slowly but surely, I am making my way through our game closet and sharing our thoughts. Stay tuned for more posts in this series!
Giant backyard classic games make for awesome gameschooling
It all started with a homemade backyard Scrabble. We were at a friend's birthday party and I couldn't believe my eyes. My favorite board game from childhood? In giant form? To play in the backyard?
I had to find out more.
Turns out the backyard Scrabble was a creation of love, homemade by a friend-of-a-friend's husband.
Now, my husband is pretty handy, but I think he'd roll his eyes if I asked for a backyard Scrabble. Besides, he's in the midst of a treehouse project with the kids and he's got his hands (and heart) full.
Well, surprise surprise- many of these classics are available on Amazon.
(Unfortunately, Scrabble was a no-go but maybe in time!)
We added Jenga and Yardzee to our backyard activity collection and I haven't regretted a second!
Backyard Jenga
Now, I have seen giant Jenga once before. Our local nature center has a giant Jenga and every fall, at the autumn festival, my children delight in playing it together.
But to have it arrive on our doorstep?
It was love at first sight.
We have played round after round of backyard Jenga!
The one bit of advice I have for those who would like to play giant Jenga is this: watch your toes!
(When those pieces fall, they fall hard, if you know what I mean!)
Despite the potential for toe injury, this game was a humungous hit in our household. The crashing blocks only added to the fun of the game!
Backyard Yardzee
Yardzee was serious fun! Now, full disclosure: We are a family of Yahtzee lovers.
Click the image below to see video and photos:
And do you want to know another bonus? This Yardzee doubles as a Yard Farkle I kid you not. Two games in one, you guys!
If you love these games…
… you might enjoy these: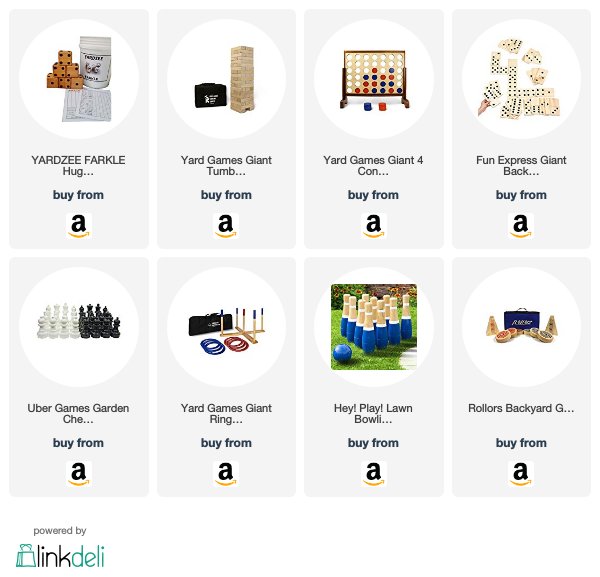 … or these games:
Do you love games and gameschooling?
Be sure to check out these related posts:
Do you want to see our gameschool in action?
Be sure to follow My Little Poppies because we share snapshots of gameschooling moments… and heaps of incredible books!
You are also invited to join the My Little Poppies Gameschool Community, a private Facebook Group for parents who wish to add more play to their family and/or homeschool routine.
Now, it's your turn. Tell me: Does your family have a favorite backyard classic game right now? Share here.